Piano Congress is the first piano industry event of its kind since 2018 in Europe organized by Europiano and IAPBT ! Wondering why you should attend this event? Warsaw is a beautiful city, and it's worth doing something besides sightseeing to grow your business or solidify your position in this industry.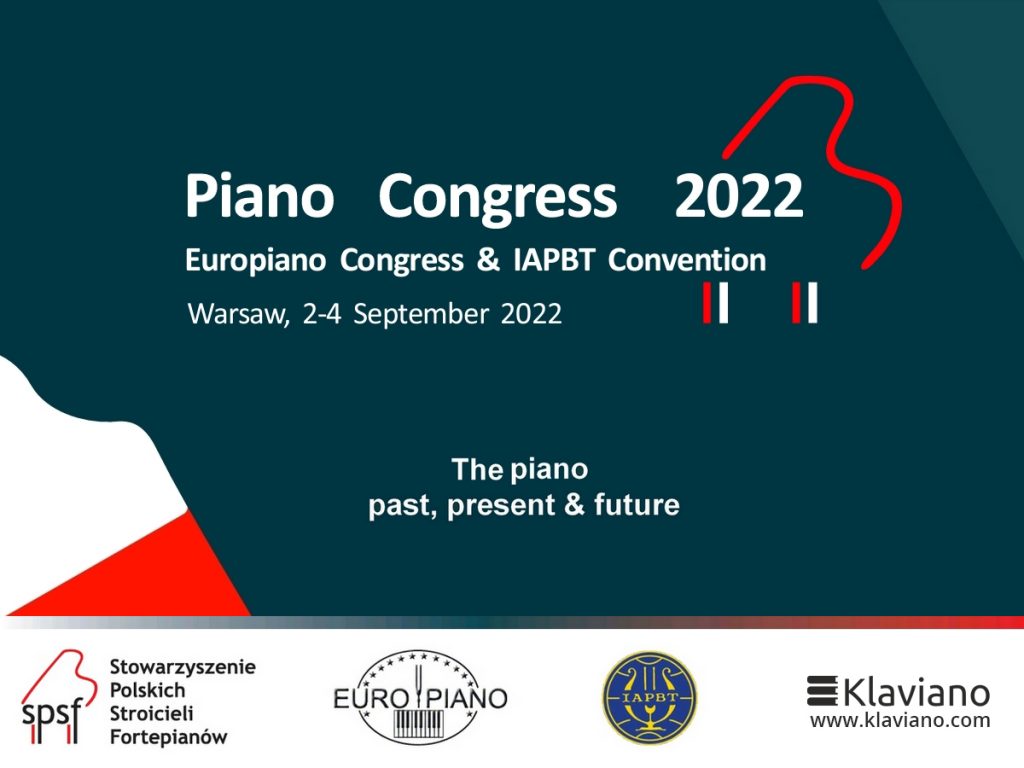 Do you manufacture new pianos?
Piano Congress is the first such opportunity since 2018 to highlight the value and quality of the pianos and grand pianos your company produces. In the exhibition space, you will certainly not lack the opportunity to make new valuable business contacts on a European and global scale. During the open day, your instruments will have the opportunity to enchant the enthusiasts, pianists, institutions, piano showroom owners who come there.
Are you the owner of a professional piano store?
Piano Congress is a unique opportunity to establish new business contacts with piano and grand piano manufacturers, with whom you have not had a chance to cooperate so far. Do you want to develop your business? Come and experience first-hand the quality of instruments that can increase the turnover of your piano business in the future. Find out what trends will drive piano sales in the near future, and how new technologies and the Internet can develop your business.
At Piano Congress you will not miss the opportunity to meet personally representatives of companies dealing with professional piano restoration. In the seminar part of the congress there will be also a lot of professional knowledge given by the specialists working on the leading brands of pianos from all over the world, so if you are not able to attend this event, reserve a place for a technician working in your workshop, who will improve the quality of offered service concerning tuning or repairs after returning. Piano Congress is an ideal opportunity to meet manufacturers of installation systems for pianos.
Do you deal with professional piano restoration?
Piano Congress is a perfect opportunity to show off the quality of your piano restoration business, which will make your company more credible to customers who have already browsed your offer on the website, but are hesitant to place their first order and start cooperation. It is an ideal place to establish new collaborations. At the congress there will also be manufacturers of components used in renovation works. Attending this event also allows you to exchange expertise with other industry professionals.
Do you tune and repair pianos as a piano technician?
Piano Congress is the best place to get in touch with new instruments and exchange technical knowledge, which developing and completing is an essential part of professional service. Thanks to the presence of piano and grand piano manufacturers at the Congress, you can gain new contacts and acquire new professional experience. The inseparable elements of Piano Congress are seminars conducted by specialists from different countries, which will enrich your skills in tuning and restoration of pianos, and bring closer the subject of installation systems, components used for restoration.
Do you offer accessories for pianos?
Do you produce benches, installation systems for pianos, professional piano transport equipment? Piano Congress will give you an opportunity to present your products, establish new business contacts and even make first transactions with clients interested in your products.
So far their participation in Piano Congress 2022 has been confirmed by:
Are you interested or ready to join the Piano Congress?
Find out how to reserve an exhibit space for your products or reserve an attendance package for Piano Congress 2022