As January is the month for summarizing, we decided to sum up the last year on Klaviano. We want to find out which instruments interest you the most, which piano brands you like the most, and which upright/grand pianos you most often search for in our search engine. If this catches your interest, you're welcome to continue reading!
Klaviano in 2021
Last year, our services were used by 6,757 users (including 1,238 piano shops) from 58 countries. Thanks to them, you were able to view 7,132 unique pianos on Klaviano and use the services of more than 754 specialists.
Most viewed and liked pianos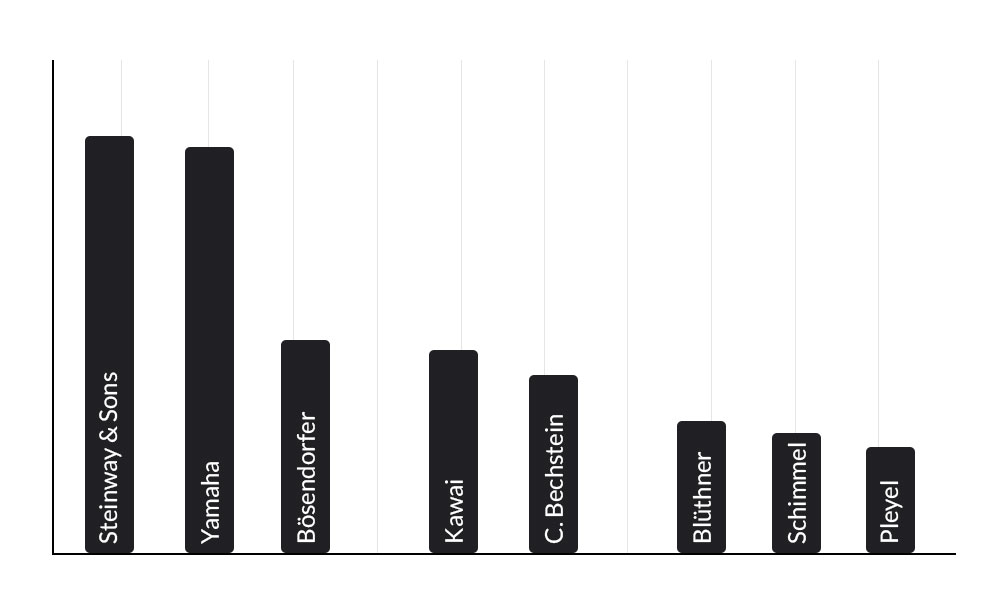 Well, this was probably to be expected! From Steinway & Sons pianos, the most popular were the D274 and B211 models and the K132 concert piano. And for Yamaha the most popular were: the irreplaceable U1 piano and C3 and C7 pianos. Classics from Bosendorfer like the 170, 200 and of course 290 Imperial. They always please the eye, so we are not surprised by your interest in them. On Klaviano you can also follow (observe this instrument) your favourite pianos. Can you guess which piano brands are the most popular on Klaviano?

Your favourite piano brands on Klaviano
What is your favourite piano brand? Or do you have a favourite particular piano model? Share this information with us in the comments.
If you are the lucky owner of any of the above instruments and would like to sell it, you are welcome to join the Klaviano family! 🙂