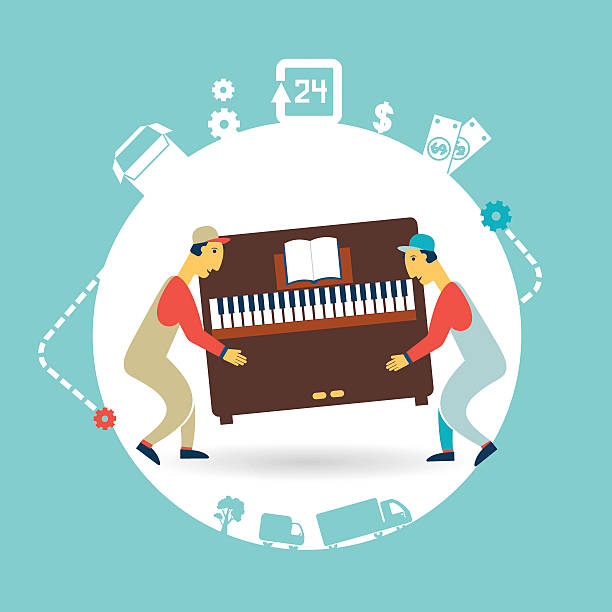 It depends on: its size, its value and the distance over which we plan to transport our grand or upright piano, among other things. We can do it by ourselves, with the help of friends or some rented equipment. But we can also use the services of professional transport companies. We recommend this not only in the case of large dimensions of the instrument but also if it is particularly valuable to you.
In this article we will present an example of the cost of transporting a piano. We will also tell you what additional costs may await you during such an operation. If you are moving a piano locally, a rental car and a group of friends may be enough. However, if you plan to send the instrument to another city, country or overseas, you will have to use professional transport offered by shipping companies.
How much does it cost to move a piano
To begin with, it should be noted that the piano moving cost depends on several factors:
the size and weight of your piano – transporting an upright piano console weighing around 100 kg should cost us less than transporting a grand piano, which can weigh over half a tonne.
the distance over which you want to transport your piano – most removal companies add the number of kilometres they have to transport your piano, multiplied by the average price per km/mi set by the company, to the basic costs (lifting, carrying or packing the consignment). Our transport calculator will help you with this calculation.
the means of transport we can choose – land transport is cheaper. In the case when we have to use air or sea transport the piano shipping costs may increase.
For example, the cost of transporting a medium sized studio piano, within one city, with carrying it up and down the stairs. When using services offered by local piano movers, such cost should be around $200-500. The transport will be different when moving between countries or states but still using car transport. Taking into account the long distance, the cost of shipping the piano abroad will be about $1000-3000. The most expensive option would be to move the piano overseas, e.g. shipping it to the USA from Europe. The price of such a service is about 2000-5000$. If you want to know the approximate transport costs for your instrument, we will help you to calculate them. In addition, on Klaviano you will also find a trustworthy company that will help you with the moving of your grand or upright piano offering top quality services.
What to keep in mind when shipping abroad to the USA
When sending a grand or upright piano overseas, the first thing to remember is to pack it correctly. Protection from moisture is crucial, especially if the package is to be sent overseas. Remember that if your instrument has an ivory keyboard, its carriage must take place under special conditions. Another consideration is customs duty – this can incur unexpected extra costs. But rest assured when you decide to use the services of a professional removal company you will get professional help with these sometimes confusing procedures.
Removals insurance
If your instrument is extremely valuable or you are sending it on a long journey (e.g. overseas), consider moving insurance or other additional protections. Removal insurance is not always the same as actual insurance, but often the type of quote a removal company offers, but it works just like insurance. It usually doesn't cost extra either but often doesn't provide full protection either. Larger international removal companies, specialising in both undersized and long distance moves, offer additional insurance (usually payable at around 1% of the value upfront) to fully protect the instrument in the event of unexpected events.