This article is dedicated to one of the largest, most famous and most successful piano brands in the world – Kohler & Campbell. By the end of this article, you'll have learned all you need to know about this brand, including a brief description of models, serial numbers, how and where the pianos are made, specifications of the brand, orientational price of the models and other useful information that can help you decide whether the brand is worth your money and trust or not.
Table of Contents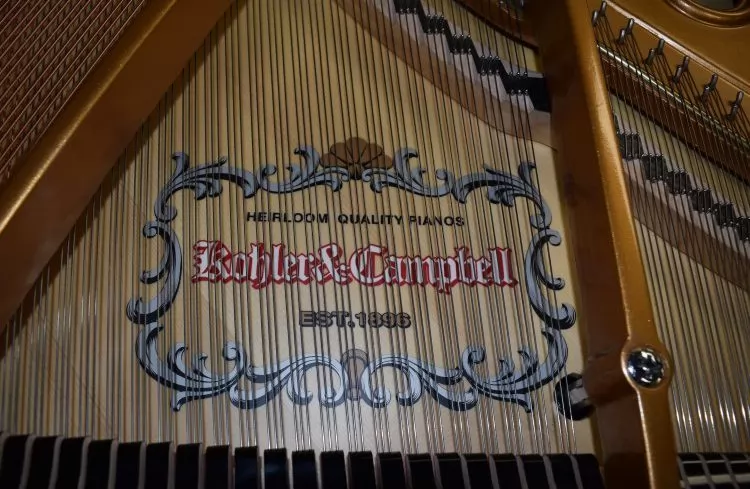 The Kohler & Campbell brand
Kohler & Campbell is one of the most famous and largest American piano-making companies. It has an amazingly rich history going back to 1896. Back then, the Kohler & Campbell Industry was established by John Calvin Campbell – originally a mechanic – and Charles Kohler in New York.
Campbell's extraordinary skills and experience enabled him to come up with numerous breakthrough techniques of piano-making, which vastly and immediately increased the value of their models. While the quality increased rapidly, the prices not so much. Campbell made it the very essence of the company – "the best value for the dollar." This definitely made the company a great competitor in the field of making and selling pianos.
Reportedly, the largest and most faithful customers of the company were the finest American piano manufacturers who carried and sold the Kohler & Campbell piano models in their establishments. Even nowadays it remained so, which is bulletproof evidence of the company's quality.
Kohler & Campbell Pianos
Kohler & Campbell produces both vertical and grand pianos. You can even choose between two sizes of grand pianos. The pianos are classified into two categories – the New York series and the Millennium series. Both Series have six models of grand pianos, the Millenium series have eight models of upright pianos and there are four upright piano models in the New York series. Even though Kohler & Campbell is an American company, their pianos are made in South Korea. When they're almost done, they're shipped to America for the final touches, such as the action and tone regulation.
Piano Models
The Millenium Series
Grands
Model
Height
Width
Weight
Market piano price
KFM-850
40 1/2″
59 4/5″
915 lbs.
Check on Klaviano
KFM-700
40 1/2″
60 1/4″"
816 lbs.
–
KCM-650
40 1/2″
48 1/2″
790 lbs.
–
KCM-600
40 1/2″
59 4/5″
794 lbs.
Check on Klaviano
KCM-500
40 1/2″
59 4/5″
672 lbs
–
Verticals
Model
Height
Width
Weight
Market piano price
KM-121M
47 ⅝"
59″
487 lbs.
Check on Klaviano
KM-131
51 ⅜"
60 ½"
569 lbs.
Check on Klaviano
KM-245
43 ⅞"
58 ¼"
452 lbs.
–
KM-247
46 ⅞"
58 ⅝"
472 lbs.
–
KM-647F
46 ⅞"
58 ⅝"
472 lbs.
–
KMV-52MD
51 2/5″
60 1/2″
558 lbs.
–
New Yorker Series
Grands
Model
Height
Width
Weight
Market piano price
KIG-48
39″
57 ½"
610 lbs.
Check on Klaviano
KIG-50
40 ½"
58 ½""
655 lbs.
–
KIG-54
40 ½"
58 ⅓"
683 lbs.
–
KIG-59
40 ½"
59 ½"
794 lbs.
–
KIG-61
40 ¼"
59 ½"
789 lbs.
–
Verticals
Model
Height
Width
Weight
Market piano price
KC-118H
46 ¾""
57 ⅝"
472 lbs.
Check on Klaviano
KC-142
42 ¾""
57 ¼"
445 lbs.
Check on Klaviano
KC-243F
43″
56″
445 lbs.
–
The Millenium Series Review
Since Kohler & Campbell has introduced their Millennium Piano Series, the music community has gradually come to an agreement that this brand is one of the greatest piano brands of our time. They deserve such a title namely for their wonderful low-tension scale design uniquely made for each of the Millenium Pianos sizes. Also, compared to the competition, the Millenium Piano Series has longer strings and a larger soundboard area, which ensures richer and fuller tone quality.
Each tone of the Millenium Series Pianos is very carefully adjusted, balanced and evaluated, which ensures a very even sound. This series stands between Asian and European brands – bolder and stronger compared to European brands, but gentler and more mellow than Asian piano brands. In comparison to the older Kohler & Campbell series, Millenium implements numeral improvements resulting in better overall performance, however, even pianos from before 1985 provide piano players with reliability and full functioning.
When it comes to the price of a used piano, it always depends on how the piano has been being used. Namely, how much it's been damaged over the years and what kind of care it needs before it can be played (if any). Some very old pianos are in better condition than some new ones. This, of course, reflects on the price. Therefore, it's not that easy to say how much a piano is worth. But based on the fact that this company tries to keep the prices reasonable and make their pianos available to the wide public, I'd say Kohler & Campbell is always a good choice. You can check the market prices of Kohler & Campbell piano models in the Klaviano Search Engine.
The first and highest criterium when it comes to piano-making is the final sound of the instrument. To achieve the perfect sound, a whole range of conditions has to be fulfilled. From the choice of material through mechanisms of their use up to the final touch, everything has to be done in a specific way.
The current series of the Kohler & Campbell pianos – The Millennium Series – is made of the finest time-tested materials, each of them coming from a different part of the world. The Millenium Series pianos embody over 300 years of experience, the result of which is not only extremely quality instruments, but also specific design. Different parts of the pianos come from five different countries. Namely, the exotic wood, such as Ebony, Bubinga, Mahogany, Meranti, and Agathis comes from Indonesia; spruce used to make the soundboard comes from Canada; the iron plate is from Korea, rim and pin block is made of the Rock maple from the Adirondack Mountains of Northeastern United States. Finally, all Kohler & Campbell Grand Pianos use the famous Renner Action and Hammers from Germany, which are usually used in the world's most expensive pianos.
Kohler & Campbell Upright Pianos
With Kohler & Campbell vertical pianos, you can be sure you get the quality you ask for. They serve perfectly to a practising professional, as well as to a beginner. As it's only a small size piano, we can't expect the same intensity of sound or the same variety of sound colours as we get with a grand or baby grand piano. However, we still got perfectly balanced and weighted mellow keys, which easily serve their purpose. Also, as an instrument for practice or musical accompaniment, upright pianos are available for a much more reasonable price than the larger models. Kohler & Campbell Upright Pianos cost around $3,500 (2,900€) for a new piece.
Kohler and Campbell Grand and Baby Grand Pianos
The good news is that the company is one of the world's largest makers of grand pianos. Therefore, they apply the economies of scale to make their Millennium Pianos the most affordable high-performance piano in the world.
As I've mentioned earlier, there are two sizes of Kohler & Campbell grand piano. The standard Grand Piano usually serves for concert halls. Sound features of these instruments are accommodated to acoustic conditions of large spaces.
Kohler & Campbell Baby Grand Piano, on the other hand, is a perfect compromise between a grand piano and upright piano. Not only in terms of sound intensity, but also in terms of space. This piano can easily be placed in a household, or it can perfectly serve small concerts/performances. In a smaller space, it doesn't take any of the sound quality, so I'd personally recommend it even to smaller music schools as a concert instrument. Not to mention that its unique design will give a touch of history and luxury to any room.
Kohler & Campbell Piano Serial Numbers
The company marks each of its models with a specific serial number. This can tell us how old the piano is because it's marked according to the year of its origin. It begins with the number 10000, which stands for the year 1900, up to 795491, which marks pianos made in 1983. We can find this number either above the iron plate (on the left or right side) or on the inside cover of the instrument.
Read our article "How to find a serial number" to find out more.
The new series has different serial numbers and these tell us the length of the piano. For example, SKG500S means the piano is 5 feet long (152,4cm), SKG600S is 6 feet long (182,88cm) and SKG800 is 7,1 feet long (216,4cm).