Wurlitzer is a company that has achieved considerable market success. Are Wurlitzer brand instruments worth recommending? What should you know when considering buying a Wurlitzer piano ? I will try to introduce you to the most important features and interesting facts about the keyboard instruments produced by Wurlitzer.
Table of contents
---
---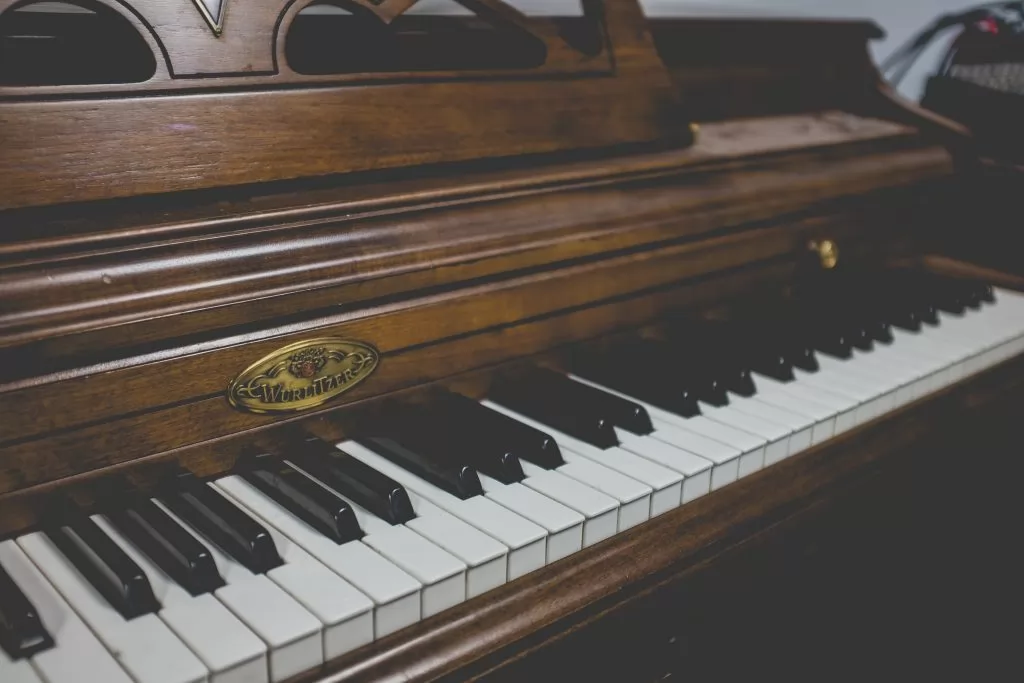 1. Historical outline of the Wurlitzer brand
The Wurlitzer Company was founded in the USA in 1856. It was founded by Franz Rudolph Wurlitzer, an immigrant of German origin. His family had been involved in the manufacture and sale of musical instruments for many years, so Rudolph had the experience early on that contributed to the market success of his company. Initially, the instruments offered for sale were imported from Germany. After signing a contract with the US Army, Wurlitzer became its main supplier of musical instruments such as drums and trumpets.
Wurlitzer piano production began in the USA in 1880. Their factory was located in Cincinnati, later the company moved to New York. There they also undertook the production of cinema organs, known as 'The Mighty Wurlitzers', which were used to provide musical accompaniment to silent films during their projection. In response to advances in technology, Wurlitzer expanded into automatic instruments. One of their instruments was the iconic Wurlitzer Jukebox, a jukebox that played a selected piece of music from a vinyl record when a coin was inserted. Jukeboxes became an icon of American consumer culture in the 1950s, with millions of people dancing to the music played in bars and music halls. 
Changes in the music market
Both Rudolph and his sons, the successors in the family business, reacted skilfully to changes and demands in the music market. In 1935, a small upright piano was introduced under the Wurlitzer name, the Wurlitzer Spinet Piano, as a more convenient and reasonably priced alternative to the keyboard instruments manufactured up to that time. One of the other later innovations in the company's range was the Wurlitzer Electric Piano produced from 1954 to 1984. These were produced initially in factories in the city of Corinth, Mississippi, then in DeKalb, Illinois and later in Logan, Utah. The most popular of the company's electric piano models was the Wurlitzer 200a. The Wurlitzer Electric Piano became popular with many musicians involved in popular music. They were used by world-class bands or artists such as Ray Charles, Joe Zawinul, Elton John, Joni Mitchell, Norah Jones, The Beatles, Queen, Pink Floyd, and Vulfpeck.
The construction concept of these instruments is to some extent comparable to the Rhodes electric keyboard instruments. It is worth noting, however, that there are a number of significant differences between the Wurlitzer and Rhodes instruments. These differences include the sound and the way the sound is generated; each of these instruments is distinctive in its own way. Later, electric keyboard instruments were superseded by electronic instruments (digital pianos, synthesizers). Although it is noteworthy that existing copies of the Wurlitzer or Rhodes are still popular among musicians today. In 1988 the Wurlitzer company was bought by the Baldwin Piano Company. Baldwin sold Wurlitzer brand pianos until 2009. 
2. What are the characteristics of Wurlitzer pianos?
What can be said about the brand's acoustic upright and grand pianos? It should definitely be noted that these are mid-range instruments, primarily intended for beginners and for home use. However, the advantage of Wurlitzer pianos is that they are robust and solidly built. Despite the fact that compared to the top brands, Wurlitzer pianos are rather average, they have played an important role in the mass market. Thanks to their affordable price, they attracted many Americans who could not afford to buy a more expensive instrument. It is worth noting that at the time of Wurlitzer's beginnings, market prices for instruments were extremely high. After Wurlitzer was acquired by Baldwin, Wurlitzer pianos continued to be produced as mid-range instruments.
3. How much are Wurlitzer pianos worth?
The price range for Wurlitzer acoustic pianos in good condition is roughly from $600 for a Spinet piano, up to $1500 – the top price is reached by Console piano type instruments. However, it should be kept in mind that the prices of individual instruments on the market depend on various factors.
If you want to buy or sell an upright or grand piano from a top manufacturer such as Steinway or Yamaha, the fact that you are dealing with a reputable brand name has a significant impact on the price of the instrument. The situation is different for a Wurlitzer piano, or the value of other brands of keyboard instruments, which are not in the top league in terms of performance and quality. In the case of such instruments, the price depends primarily on their actual condition, age and, of course, how much the buyer is ultimately willing to pay for the instrument. 
4. Is it worth buying a Wurlitzer piano?
It is worth noting that the slightly lower performance of Wurlitzer pianos, and the resulting more favourable price, can in many cases be an advantage for these instruments. When we begin our adventure with the piano, it is often difficult to predict whether we will actually go into musical development seriously. This also applies to students of music schools, as not all of them tie their professional future to music. Many drop out of continuing their education. In practice, unfortunately, it is often the case that the effort and work that has to be put into practising an instrument regularly, can discourage many of us from playing. Buying an expensive entry-level piano, therefore, can turn out to be a big mistake in the near future. 
A Wurlitzer piano in good condition as a learning instrument should meet the requirements of beginners. Of course, it is always advisable to keep in mind the basic maintenance requirements. Such as regular tuning by a qualified piano tuner, cleaning the instrument, ensuring constant temperature and air humidity as far as possible, and regular playing. A well-kept piano in good condition will attract potential buyers sooner if it is sold.
5. Summary
The rich history of the Wurlitzer Company reveals trends and developments in the music industry. As far as acoustic upright and grand pianos of this brand are concerned, although they are not among the most highly regarded, they have their value and place in the music market.
I have included a list of serial numbers linked to the year of manufacture of the instrument below.
---
---