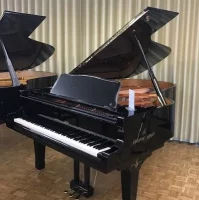 Please ask for more pictures
Die SK "Concert Series" Flügel zeichnen sich durch elegantes Design, hochwertigste Materialien, technische Weiterentwicklungen, feinfühlige Spielart und perfekten Klang aus.

Die Verwendung von ABS-Karbon macht die Mechanikteile unglaublich robust. ABS-Karbon ist viel fester als Holz und nahezu resistent gegen Veränderung durch Umwelteinflüsse und Feuchtigkeit. Diese einzigartige Verbindung von Stärke und Stabilität ermöglicht einen Transfer der Anschlagskraft praktisch ohne Energieverlust.

Der Flügel ist besonders für kleine Bühnen, Konzertsäle oder Schulen geeignet und besticht mit seinem Volumen und der Leichtigkeit seiner Spielart. Der SK-6 steht seinen "Kollegen" in dieser Grösse mit nichts nach – im Gegenteil, er überflügelt sogar den einen oder anderen mit seinem unverwechselbaren Klang.
Report Listing

Cancel Report
ID:

431007
You want to buy a used piano?
When looking for a piano for sale, there are several aspects to consider before making a purchase. As with upright pianos, grand pianos on the market are available in a new or used condition. New instruments are most often covered with a few years' warranty, which confirms their impeccable technical condition. It happens that sellers also offer a guarantee for used instruments... Read more
Grand piano for sale - what do you need to pay attention...?
The casing of an instrument such as a piano is usually a large surface covered with high gloss polyester varnish, or a veneer imitating some kind of wood, e.g. walnut or mahogany, also covered with varnish, or a polished surface. If you want to have a piano at home that looks impeccable visually, we recommend that you look at the state of the lids to see if their surface is not scratched or varnished, similarly to the piano legs... Read more