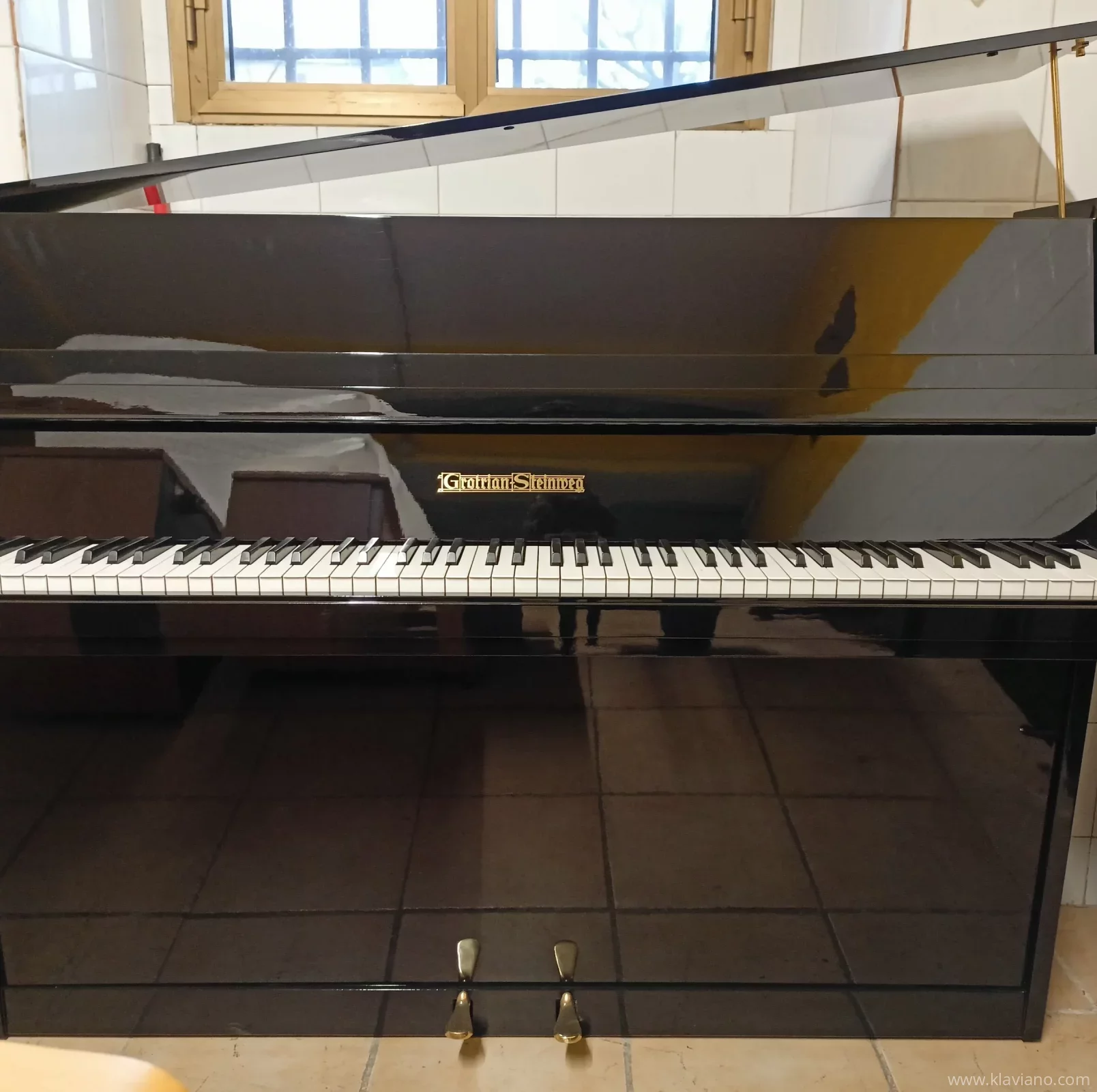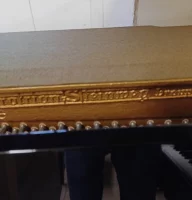 Please ask for more pictures
Pianoforte verticale Grotrian Steinweg 110 nero lucido costruito in Germania matricola 97312 prodotto negli anni 70.

Il trasporto (fino a 150 euro) e la panca sono inclusi nel prezzo.

Prezzo del nuovo 15000 euro circa.

Il pianoforte é perfetto nel mobile e in ogni sua componente meccanica, è stato appena accordato e messo a punto secondo le direttive di fabbrica.

Raro trovarne in queste condizioni sonore e meccaniche.

Costruito a Braunschweig in Germania monta meccanica Renner e le migliori componenti dei pianoforti tedeschi quali caviglie Diamant, acciaio Roslau e tavole armoniche con legni della foresta nera.

Dotato di martelli Renner particolari d'alta qualità con feltro più abbondante sui bassi e consistenza morbida per donare un timbro più caldo allo strumento.

Fondata nel 1830 Grotrian Steinweg è uno dei più importanti marchi di pianoforti nella storia:

Il pianoforte è dotato del noto sistema a stella posteriore che dona maggiore stabilità al sistema e del telaio in ghisa collegato solo al telaio posteriore che consente la libera vibrazione del sistema interno e produce il timbro unico del marchio.

Curiosità: Heinrich Steinweg si associò alla ditta Grotrian Steinweg prima di emigrare negli Stati Uniti e col nome di Henry E. Steinway fondare la Steinway & Sons.

Le principali case regnanti d'Europa (tra cui quella inglese) hanno scelto i pianoforti Grotrian Steinweg.

Attualmente produce artigianalmente poco più di 500 pianoforti all'anno.

Pianoforte dal timbro europeo dolce ed emozionante.

Alto rapporto qualità/prezzo.

Scrivetemi su Whatsapp se trovate occupato o spento, vi risponderò il prima possibile.

Sono disponibile, se seriamente interessati, ad inviarvi un accurato video su Whatsapp di prova del pianoforte e dimostrazione componenti meccaniche ed usura. Possibilità di vendita a distanza con regolare contratto. Mondini, Accordatore.
Report Listing

Cancel Report
ID:

431002
Do you want to buy a used piano?
While looking for a piano for yourself, your child or students you will come across many used pianos for sale, various offers more or less attractive to you as a buyer. New instruments are flawless, so we've decided to advise you on what to look out for to have a very cool piano at home used in good condition. A piano is... Read more
Used upright piano - what's worth paying attention...?
Another very important section in used pianos is the so-called acoustics. The acoustics are hidden inside the piano, i.e. in order to reach it, the salesman must show the inside of the instrument, we do not recommend to do it yourself if you have no experience in dismantling the piano. Here it is good to pay attention to... Read more